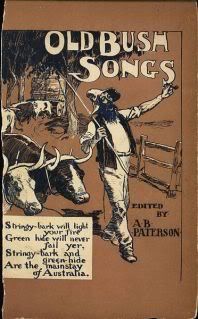 "The Cat" by Andrew (Banjo) Paterson (1898, 4 pages)
Australian Reviews
Banjo Paterson (1864 to 1917, New South Wales, Australia) is a great chronicler of life in the Australian outback (or bush country). Last year I did a series of posts on short stories by Australian Bush Writers. The short story was a very prevalent format in part because most of the stories were first published in weekly or monthly magazines that imposed length requirements. Additionally the original intended audience was not a leisured group so a short story suited their needs. Anyway I discovered about 10 new to me writers while exploring this very distinctive sub genre of the short story. I last posted on Paterson for The Reading Life Outback Tales Project in June of 2010 when I read
"The Dog".
"The Dog" is a tribute to the wonderful hardworking outback dog. (Paterson wrote the national anthem of Australia and his face was for a long time on the Ten Dollar bill. There is some background information on him in my prior post.)
"The Cat" is a really fun story that any cat lover will appreciate and smile over. I laughed out loud at one of the scenes. Paterson's prose is clear crisp and easy to understand.
"
Most people think that the cat is an unintelligent animal, fond of ease, and caring little for anything but mice and milk. But a cat has really more character than most human beings, and gets a great deal more satisfaction out of life. Of all the animal kingdom, the cat has the most many-sided character.
He -- or she -- is an athlete, a musician, an acrobat, a Lothario, a grim fighter, a sport of the first water. All day long the cat loafs about the house, takes things easy, sleeps by the fire, and allows himself to be pestered by the attentions of our womenfolk and annoyed by our children."
Paterson not only has a great feel for cats he senses how people relate to a cat and how a cat can manipulate the people in his life.
I liked this passage so much I cannot resist quoting it:
"
If there is a guest at table the cat is particularly civil to him, because the guest is likely to have the best of what is going. Sometimes, instead of recognizing this civility with something to eat, the guest stoops down and strokes the cat, and says, "Poor pussy! poor pussy!"
The cat soon tires of that; he puts up his claw and quietly but firmly rakes the guest in the leg.
"Ow!" says the guest, "the cat stuck his claws into me!" The delighted family remarks, "Isn't it sweet of him? Isn't he intelligent? HE WANTS YOU TO GIVE HIM SOMETHING TO EAT."
"The Cat" is not great art. It is just good entertainment that lets us see what life was like in the Australian outback in the 1890s. I think it speaks greatly of the sense of humor, generosity and "can do" spirit of the people of the outback.
If you have time and want to get a look at life in the Australian outback-browse through some of my posts on Australian Short stories.
Do you have a favorite cat short story?
Mel u